Atlanta Popcorn Ceiling Removal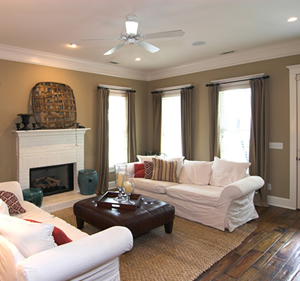 Popcorn ceilings were an extremely popular decor choice back in the 70s – but if you're still sporting popcorn ceilings at home or in the office, then you don't need a reminder of just how outdated your ceiling looks.
There's no denying that textured ceilings were a major craze years ago, but today's ceilings are smoother and minimal. So if you want to update your home or office and rid yourself of those popcorn ceilings for good, then it's time to let the Atlanta popcorn ceiling removal experts at Spectacular Painting give your home or office the ultimate makeover.
For several years, Spectacular Painting has been the go-to company to remove popcorn ceilings in Atlanta. Our Atlanta popcorn ceiling removal experts know how to remove popcorn ceilings in the office or at home – and they know how to do it without making a mess.
Our system for removing popcorn ceilings in Atlanta always emphasizes the need to complete the project safely and on budget. Our popcorn ceiling removal services are affordable, but that doesn't mean we cut corners. We pride ourselves on offering a better Atlanta ceiling renovation service that won't cost you a small fortune.
Isn't it time you experienced a better way to update the look of your home or office?
When you're ready for a truly "spectacular" way to remove popcorn ceilings in Atlanta, then look no further than Spectacular Painting. Call us today for an estimate on the cost of your Atlanta popcorn ceiling removal project. We'll be happy to demonstrate how we can safely and effectively remove popcorn ceilings and provide you with ceiling painting and drywall repairs in your home or office.
Services Our Atlanta Popcorn Ceiling Removal Contractors Provide
Popcorn Ceiling Removal
Remove Textured Ceiling
Remove Popcorn Ceiling
Acoustic Ceilings
Popcorn Ceilings
Acoustic Ceiling Removal
Drywall Repair
Asbestos Removal
Ceiling Painting
Ceiling Drywall
Textured Ceilings
Ceiling Repair
Why Metro Atlanta Should Hire Us for Popcorn Ceiling Removal
At Spectacular Painting our mission is to help homeowners and businesses throughout the Metro Atlanta area complete their interior painting projects with seamless ease and efficiency, ensuring they have a spectacular experience with our company. As an accredited member of the PDCA, our knowledgeable and friendly staff will work with you to guarantee your complete 100% satisfaction with our popcorn ceiling removal and painting services, helping you get exactly the look you want for your home or business. Our PDCA membership status indicate our dedication to providing services and operating by a highly ethical code of conduct. Plus, with our warranties and guarantees for quality service, you can rest assured your investment in our popcorn removal services is protected.
Spectacular Painting is a licensed and insured Atlanta painting contractor with over 20 years of experience in the industry. Our team adheres to the highest standards of craftsmanship, and we take every measure to ensure the comfort and confidence in your decision to allow us to complete your ceiling, drywall repairs and painting projects. Our Atlanta popcorn ceiling removal experts and painters are background checked and drug tested so you can trust the integrity of the professionals working in your home. 
See What Atlanta Clients Are Saying About Our Popcorn Ceiling Removal Services
"My wife and I are very satisfied with Spectacular Painting and the popcorn ceiling removal service they provided for my home. We had a great experience! The painters protected all of our surfaces and did a really nice job cutting in trim and the ceiling. We will definitely give them a call for our next painting project, and we recommend that you do, too." Read More

- A Local Customer South Atlanta, GA | Rated: 3 / 3
---
Recent Articles about Popcorn Ceiling Removal
ATLANTA POPCORN CEILING REMOVAL: HOW TO GET RID OF POPCORN CEILINGS - There's no way around it: popcorn ceilings in Atlanta can ruin the look and feel of even the most luxurious home interiors. Popcorn ceilings – also known as textured ceilings – were all of the rage back in the 60s and 70s; however, many residential and commercial owners aren't such big fans of the textured look ... [Read more]
COMMON CAUSES FOR ATLANTA DRYWALL REPAIRS - Just like how we have to go to the doctor every once in a while, our houses also have to go under repair every so often. From small touch ups to large scale renovations, there are a slew of things that can be done to make your house comfortable to live in and always seem ... [Read more]
If you are looking for an Atlanta Popcorn Ceiling Removal contractor then please call 678.565.0177 or complete our online request form.