Atlanta Wallpaper Removal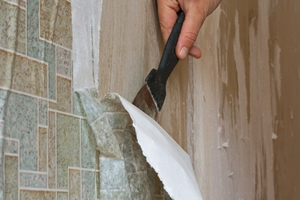 Looking to remove your wallpaper? Are you craving a home update that won't cost thousands of dollars? Does your Atlanta office need to update its look by a couple of decades?
Rather than doing it yourself or hiring an expensive Atlanta wallpaper removal contractor to do it all for you, why not contact Spectacular Painting, the ultimate experts at wallpaper removal in Atlanta?
At Spectacular Painting, we understand how just a few changes in your wallpaper can bring about a fresh change in your home or office's appearance. That's why we offer innovative and comprehensive solutions to your commercial wallpaper or residential wallpaper. From selecting a high-quality wallpaper design to removing the old wallpaper, our friendly Atlanta wallpaper experts will ensure that your every expectation is exceeded. After all, we know the difference between simple home wallpaper removal – and "spectacular" Atlanta wallpaper removal.
We only use the safest techniques to remove wallpaper in your home or office. With several years of experience under our belt, you can trust that your wallpaper removal project will be completed on time and in budget. In fact, many of our clients rave about our attention to details and ultra-affordable prices.
Besides, you shouldn't need to fork over a small fortune to experience Spectacular Painting for yourself!
When you're ready for truly "spectacular" wallpaper removal service in Atlanta, then look no further than Spectacular Painting. Call us today for a wallpaper removal project estimate – we'll be happy to demonstrate how we can safely and effectively remove wallpaper.
Wallpaper Installation Experts in Atlanta
Want to update your current wallpaper or give your home or office space a new, dimensional look? At Spectacular Painting we also offer wallpaper installation services.
When your home needs an update, you could spend thousands of dollars on new furniture or residential remodeling…or you could look into wallpaper installation, which is the fastest – and most affordable – way to give your home a modern, clean and stylish update.
If your home or office is sporting some seriously outdated wallpaper, then it's time to call in the experts. We here at Spectacular Painting can offer you the best wallpaper removal and installation in Atlanta. From office buildings to homes, our friendly and professional painting contractors can turn any room into a modern and sophisticated statement.
Let's face it: your home should reflect your tastes and style. Yet if you have old home wallpaper, it doesn't matter how stylish or trendy the rest of your home is – it will always look slightly outdated. Let our wallpaper installation experts hang designer-friendly wallpaper that comes with an affordable price tag. You'll be absolutely amazed at the transformation in your home.
Similarly, if your business decor doesn't reflect your professional reputation, it's time to prioritize your office wallpaper installation. With just a simple wallpaper installation, your office can be transformed from an outdated building into a statement of your dedication to providing your clients with the best service possible.
Services Our Atlanta Wallpaper Removal Contractors Provide
Wallpaper Removal
Wallpaper Installation
Wall Coverings
Wallpapering
Drywall Repairs
Interior Painting
Remove Wallpaper
Wallpaper for Walls
Removing Wallpaper
Room Wallpaper
Bedroom Wallpaper
Faux Finishes
Why Metro Atlanta Should Hire Us for Wallpaper Removal
"We do it, You'll Love it!!!" For 10 years, Spectacular Painting has been helping homeowners and businesses throughout the Metro Atlanta area complete their interior painting and wallpaper projects with seamless ease and efficiency. Spectacular Painting is a professionally licensed and fully insured Atlanta painting contractor with over 20 years of experience in the industry. Our team adheres to the highest standards of craftsmanship, and we take every measure to ensure the comfort and confidence in your decision to allow us to complete your wallpapering and interior painting projects. Our wallpaper removal experts and painters are background checked and drug tested so you can trust the integrity of the professionals working in your home.  For your peace of mind and quality assurance we offer warranties and guarantees, protecting your investment in our services.
As an accredited member of the PDCA, our knowledgeable and friendly staff will work with you to guarantee your complete 100% satisfaction with our wallpaper removal and installation services. Our PDCA membership status indicate our dedication to providing painting services and operating by a highly ethical code of conduct. You can rest assured that when you choose us for your Atlanta wall coverings project that our quality services and materials will pass the test of time and leave you with beautiful results. Leave your painting, wallpaper removal and wallpaper installation needs to Spectacular Painting.
View Completed Project Photos of Wallpaper in Atlanta
See What Atlanta Clients Are Saying About Our Wallpaper Removal Services
"My husband and I are real estate investors. When we first started rehabbing houses we thought we could not afford to have others do the work for us. However, it took us so much longer than the professionals to get the work done that we realized after completing our second rehab that our house would have been on the rental market so much more quickly by hiring out the work. That is when we met Armando, owner of Spectacular Painting. His crew has done painting, wallpaper removal, sheetrock repair, pressure washing and stucco repair on our rental properties. We've been so pleased with the work and prices that we have used Spectacular Painting exclusively for our last nine rehabs." Read More

- J. Barnes Atlanta, GA | Rated: 3 / 3
---
Recent Articles about Wallpaper Removal
ATLANTA WALLPAPER REMOVAL: A HASSLE-FREE WAY TO UPGRADE YOUR HOME - Let's face it: if you want to upgrade the look and feel of your home (not to mention the value), it could feel like you need a major renovation project. At Spectacular Painting, we know that that smallest changes can make the biggest differences.  And if you're ready to transform your home into something Spectacular, and ... [Read more]
THE PROS OF LEAVING ATLANTA WALLPAPER REMOVAL TO THE PROS - Moving to your dream house or finally getting an apartment you can decorate is one of the biggest milestones a person can have in a lifetime. Moments like these feel like a dream until you get to that one room where the previous owners decided to put up the most hideous wallpaper you could ever ... [Read more]
If you are looking for an Atlanta Wallpaper Removal contractor then please call 678.565.0177 or complete our online request form.